Visitor information
Art museum overview
Art museum overview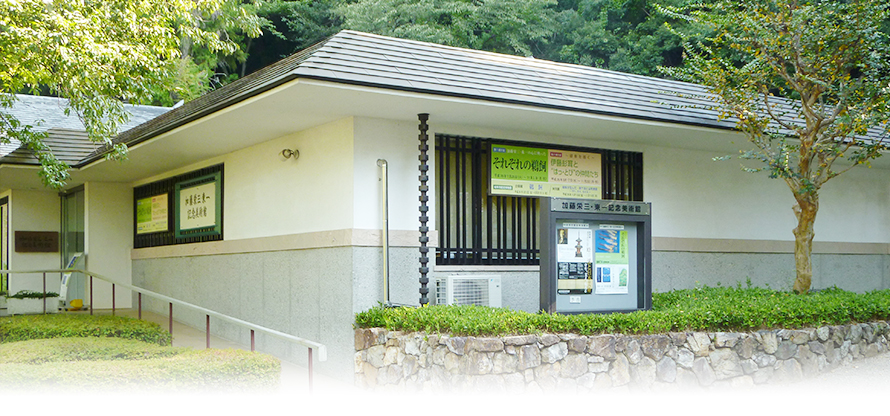 Overview of the facility
In 1991, "Kato Eizo & Toichi Memorial Art Museum" opened on May 11, the opening day for cormorant fishing.
Brothers Eizo & Toichi Kato are Japanese style painters hailing from Mitono-cho in Gifu City. Their paintings were exhibited and highly evaluated at the Japan Fine Arts Exhibition (Nitten). The museum honored both the painters, and promoted arts and culture of the region. In April 1994, it was transferred to Gifu City, changing its name to "Kato Eizo & Toichi Memorial Art Museum; the auxiliary building of Gifu City Museum of History."
Situated in Gifu Park, the "dozo" or traditional Japanese storehouse style of museum displays the art works of Eizo & Toichi about four times each year in the 1st exhibition room. It has different themes each time, under the establishment's motto to become "a museum that gives comfort and richness to the heart." Currently, there are about 5,000 drawings and 150 finished paintings, but the drawings which occupy the majority of the collections are displayed as first-released works after they have been restored and mounted. You can appreciate them along with the finished paintings.
In the 2nd exhibition room, an exhibition of the works of local artists and groups are being planned, in addition to the display of artists related to Eizo & Toichi Kato and artists highly evaluated nationwide.
Also, we are planning to strengthen the educational aspects by providing lessons on how to appreciate artworks to elementary / junior high school students, in addition to holding high-quality exhibitions to be loved by citizens of Gifu City.
Outline of the building
| | |
| --- | --- |
| Location | 1-46 Omiya-cho (in Gifu Park), Gifu City |
| Construction area | 513.81㎡ |
| Total floor area | 490.59㎡ |
| Construction | Steel reinforced concrete building ("dozo" or traditional Japanese storehouse style) |
| Completion date | November 30, 1990 |