Visitor information
Access
Access
By public transportation (train/bus)
From Nagoya Station
JR Nagoya Station —— JR Gifu Station  The Tokaido Main Line (bound for Gifu/Ogaki), about 20 minutes by "Shin-Kaisoku" (New Rapid trains)
Meitetsu Nagoya Station —— Meitetsu Gifu Station  The Meitetsu Nagoya Main Line (bound for Meitetsu Gifu Station), about 30 minutes by "Tokkyu" (Limited Express trains)

From JR Gifu Station or Meitetsu Gifu Station
Please take the Gifu Bus N system (via Nagara Bridge) *
JR Gifu —— Meitetsu Gifu —— Gifu Park City Museum of History  About 15 minutes
3-5 minutes on foot from "Gifu Park City Museum of History" on Gifu Bus.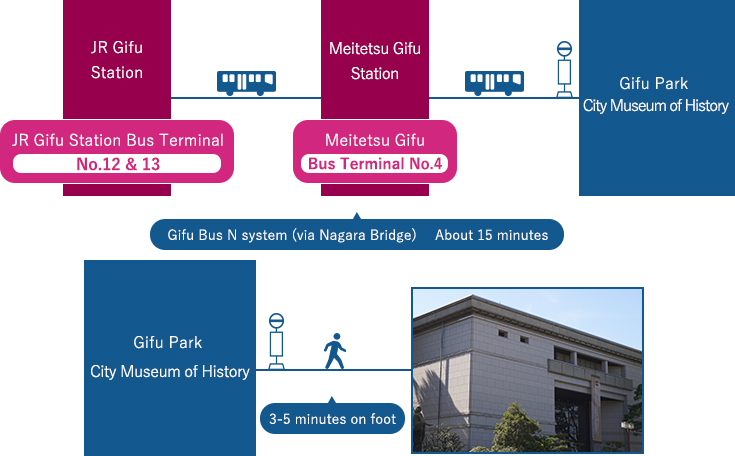 By taxi
About 15 minutes from JR Gifu Station or Meitetsu Gifu Station to Gifu Park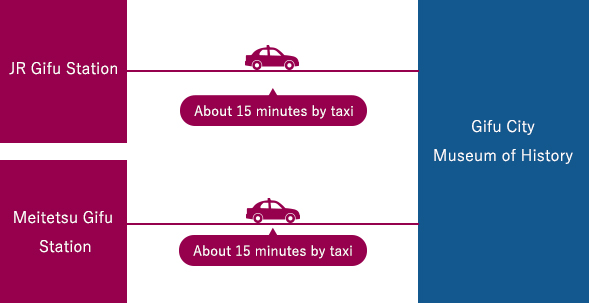 By car / charter bus
About 20 minutes from Gifu Kakamigahara IC Exit on the Tokai Hokuriku Expressway
About 40 minutes from Gifu Hashima IC Exit on the Meishin Expressway
About 20 minutes from Gifu-Miwa Smart IC Exit on the Tokai-Kanjo Expressway
About 10-15 minutes on foot from Gifu Park Parking (Teigai Parking)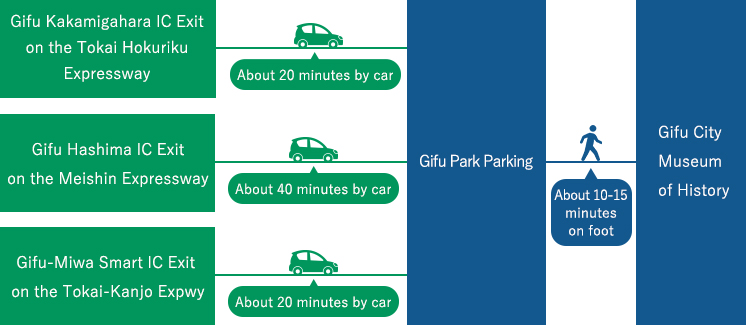 For access to Gifu City, please visit the website of Gifu Convention and Visitors Bureau.
Gifu Convention and Visitors Bureau Access to Gifu City
Parking information
If you're planning to visit by car, please be aware that the Museum doesn't offer parking facilities.
There are parking spaces available at the Gifu park or nearby parking lots.
Gifu Park Parking Hours of operation
Name of Parking
Hours of operation
Parking Fee
Teigai Parking & Teigai Parking No.2
[For passenger vehicles only]
8:30 am-9:00 pm
* Hours may be extended depending on the season.
* Vehicles cannot exit during hours closed.
310 yen each time
(Free for the first hour)
Omiya-cho Parking
[Dedicated parking for buses and people with disabilities]
Bus: 1,040 yen
Passenger vehicle: 310 yen
* See below
Kagamiiwa Ryokuchi (riverbed) Parking
Available all day
* Closed when the river water rises.
Free
* About use of Omiya-cho Parking
○ Buses must be reserved in advance.
○ Parking fee is free if the driver or a passenger carries a physical disability certificate, rehabilitation certificate or mental disability certificate.
○ For details, please visit the homepage of Gifu City Hall Park Maintenance Division.
Gifu City Hall Park Maintenance Division Omiya-cho Parking Bus reservation
Map